Drop-In Mobile Defense System for Neighborhoods in wildfire prone areas. Perfect for UTVs or Small Trucks. * 8-10 Week Delivery
This one-piece wildland skid unit assembly can be slipped onto a UTV bed, truck bed, trailer, or into a body and used for flowing water and or foam on a structural fire, car fire or wildfire. The most common wildland and urban interface fire engines in North America combine a small truck with a water tank and a high performance portable pump. Municipal/industrial fire departments and all forestry fire authorities have been using these drop-in units for decades. This is the cheapest and most popular UTV Wildland Skid rig that you can buy. It's lightweight design makes it extremely versatile when dropping it into a UTV or RTV.
This system is compatible with all the Utility Vehicle / Side by Side manufactures such as Polaris, John Deere, Kawasaki, Kubota, Honda, Yamaha, Can-Am, etc. as long as the bed dimensions of the specific UTV model are big enough. Having a UTV that's equipped with one of these skid unit systems is very common in neighborhoods in Southern California and usually purchased by the HOA to be used in emergencies to put out spot fires or to spray homes before evacuations are ordered. Homeowners stayed back and used these mobile UTV skid unit systems to successfully defend their properties from being destroyed in Malibu California during the Woosley Fire. Free Motor Freight Shipping with Residential Lift Gate Delivery Service on this Skid Unit!
SPECIFICATIONS:
Low mount configuration
6.5 HP Honda GX200 Gas Dual Stage Centrifugal Fire Pump
Single cylinder, 4-stroke gasoline engine
Manual Start
Pump capacity 35 gpm at 125 psi
65 gallon poly water tank
Self priming system
Max Pressure 140 PSI
Low oil alert
0.8 gallon (3.1 l) integrated fuel tank
Manual rewind hose reel
50ft of 3/4" high quality, durable red rubber booster hose
Dual Range 10-30 GPM Professional Wildland Forestry Fire (aluminum and brass)
Approximate Dry Weight: 290 lbs
Approximate Wet Weight: 833 lbs
Water Tank Level Sight Glass indicator
1.5" inlet with cap and chain
1.5" outlet with cap and chain
1" valve for hose reel
1" valve for tank fill / recirculating
100ft of auxiliary 1.5" single jacket fire hose with nozzle
3/4" polypropylene platform with under lifting area
Comes with a High Pressure Suction Hose Drafting Kit which includes 10' of 1.5" suction hose, 1.5" Aluminum Foot Valve Strainer w/ built in check valve, and hand primer. This is useful to draw water from an external water source such as a swimming pool, lake, etc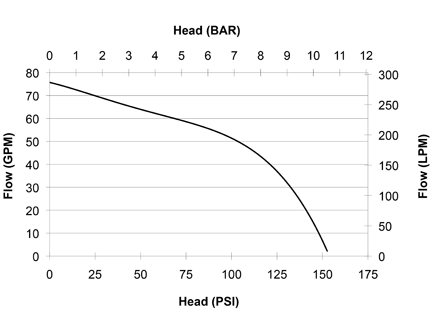 Important: Check UTV Cargo Bed Length x Width dimensions to ensure this skid unit fits before ordering.
Dimensions: 44" Length x 43" Width x 27-7/8" Height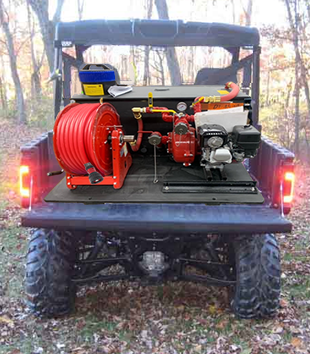 Price: $7,500.00
In Stock